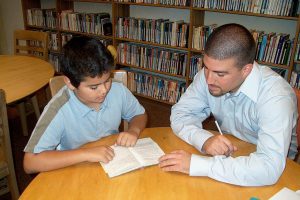 Our Personalised Tutoring program is designed for middle- and high-school students who need or want a little extra help with their school work. There is no set curriculum because of the individual needs of each student, but there are a set of core skills that we try to ensure are part of each learner's toolkit.
Grammar
Grammar is an essential element in the skill of presenting information in any format; written essay, debate, presentation, etc. An understanding and mastery of good grammar allows you to speak with structure and clarity.
Essay Writing
Essay writing is a skill; a skill that must be learned, and like all skills, it can be improved with practice.
Following on from the understanding of grammar is the skill of putting it to use in a structured and deliberate format. Whether your essay is a story, a book report, or an exam or university application essay, knowing how to lay out your thoughts in an easy to follow logical progression is essential.
Here we will also introduce the learner to searching for, citing and referencing sources.
Cursive Writing
There is a lot of literature surrounding the cognitive benefits of writing by hand, and while the jury is still out on the exact benefits of cursive (joined-up writing) over manuscript (not joined-up writing), we feel that it definitely cannot hurt; any form of hand-writing is better than not doing it at all.
Giving Presentations
A presentation is essentially a spoken essay, and the same skills of research, citing and referencing apply. In addition, however, there is the added benefit of learning how to speak with confidence to a roomful, or an auditorium-full, of people. It also helps you to speak in a manner in which an audience would be able to hear and understand the flow of your speaking. Essentially it will introduce you to public speaking.
If you would like to know more or have any questions about our Personalised Tutoring program, please don't hesitate to contact us by clicking the button below.